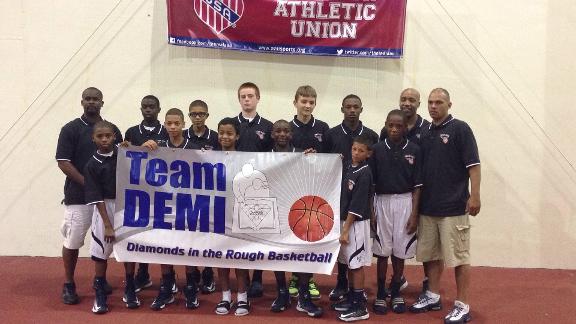 To Be Featured In GAME TIME Magazine Issue 4
In late July, New England's #1 Ranked 6th Grade team, Diamonds In the Rough (Team DEMI), traveled to Hampton, Virginia, to compete in the AAU Division 1 Nationals. Game Time Magazine Editor and DEMI guard Alex Stoddard kept us posted with the AAU Nationals Diary. Also, GAME TIME TV recently posted three highlight videos from DEMI's run at the Nationals, including a team highlight video, a player highlight video for Jarron Flynn, and a player highlight video for Alex Stoddard, which are all below.
The first day of nationals was pretty exciting cause it's my first time going to Division 1 nationals. In 4th grade, my team went to the Division 3 nationals.
In the morning we had the registration where we took a team picture and got Nationals shirts and bags. Before the ceremony most of the team hung out at Jro's (Jarron Flynn) hotel. We went swimming in his pool which had indoor and outdoor parts.

At the Opening Ceremony, all the teams paraded into the gym while all family and friends watched. It was exciting while we were walking in but after that we had to sit for about an hour while we watched the rest of the teams walk in.

Nationals Day 2:

Today was one of the most nerve-racking days of my life. I was going to play my first Division 1 AAU Nationals game in my life and we didn't play until 6:00 so i had all day to think about how nervous i was. We were also playing a team that no one had heard of.
We had a practice in the morning to go over all our plays and then I had SubWay for lunch and then got ready for our game.

We played the Minneapolis FAB. It was definitely a good first game and we won 63-40. I feel like I played a good first game even though I didn't really get going until the second half. After the game we went back to Jro's pool to go swimming and hang with the rest of the team.

Nationals Day 3:
Today we had another shootaround/practice then got ready for our game against the Academy Prep Hawks from Virginia. At the shootaround we did some drive and kick shooting drills and free throws, and at the end we all took half court shots, until Matt Cross finally made one.
I had SubWay for lunch again and then went back to the hotel to relax and get prepared for our game. We knew that this game would be tougher than our last game, and that we would have to be ready.

The Hawks had some big players as well as a shooter that I was guarding most of the game when I was in. He could fire it from deep so I had to stay with him at all times and had to be sure not to help too far or he would catch a pass and pull the trigger from way outside. We ended up losing 50-46. We were trailing by around 10 the whole game but in the second half we made a big run, at one point cutting the lead to 2, but we didn't have enough in us to pull it out.

Nationals Day 4:
Today we had our last pool game against the team that beat the Hawks on Tuesday, the Southern Stampede. The Stampede were 2-0 with a 9 point win over the Hawks and a blowout win over Minneapolis. We knew it would be a tough game because of the Stampede's size. In New England, our team is one of the biggest and strongest teams, physically, but down here, we were one of the most undersized teams.

In the morning we had the same gym we had been using all week to have another shootaround/practice in. We did mostly what we had been doing the other days, drills and a lot of free throws.

After that we went back to our hotels to get ready for the game. When we got to the gym, we knew how much smaller we were than the Stampede and that we would need to really play more of an outside game because of their size. We went down big in the game and could never get back in it because of their height and quickness. We were all very disappointed because we would not have a shot at the National Championship anymore, because we had came in third in our pool, and would be in the Classic Bracket.
Nationals Day 5:

Today, since it was the start of bracket play, we would no longer be playing one game a day, as long as we kept winning. In our first game of the day, we were playing the Razorbacks Elite from Louisiana. We controlled it all the way and won 69-32. In the end, everyone started getting fancy, throwing nice no-look passes, and things like that. Darren through a turning No-Look to Rhett, I threw a behind the back pass to Khristian, and Khristian faked a behind the back and then threw an underhanded no look to Rhett. It was definitely the most fun game that we played in the tournament.

After the game, Kyle Butler, my brother and I went to Hampton University, and saw one of the few schools black people could go to in the late 1700s. It was just one building and my dad compared it to Roxbury Latin in West Roxbury, MA, which is what white people would have been going to at the same time.
Later that day, we had another game against the Metro Sixers, who we had beaten by 20 points in the Maryland Invitational Tournament. We knew it would be a closer game this time because when we played them in MD, they were missing one of there top players. It was tied at halftime, and we were down 2 going into the fourth, but in the end they pulled away and won it by 12 on some free throws at the end.
Everyone was upset, sad and angry, because we knew we could have beat that team, and because we had had such a great first season together, and it was all over.