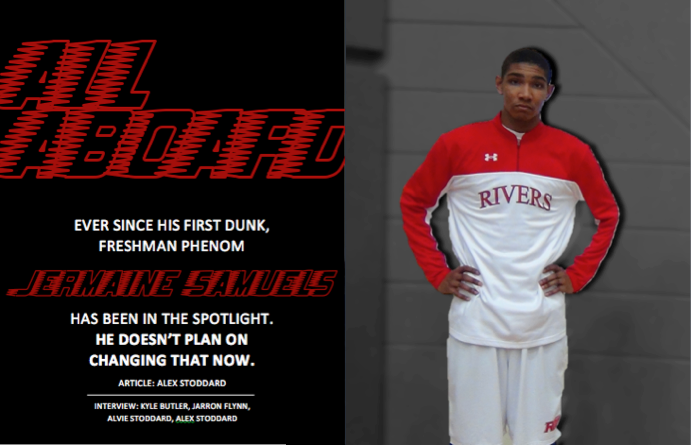 "I guess, trains just don't stop."
Which is a very true statement, and exactly how the J-Train name was slapped onto New England's best high school freshman, Jermaine Samuels.
It's more than a year before he suited up for his first high school game, Jermaine Samuels is busy dunking on, and dominating Expressions Elite, while helping Connecticut Basketball Club take home the first ever HoopRootz NPS Showdown title, en route to all tournament team honors. CBC, who at the time was New England's number one ranked team by HoopRootz, the middle school version of the New England Recruiting Report and run by AJ Stokes (see pg. 12), was led by the Frontcourt–Backcourt combo of one of the country's top floor generals in Connecticut's Jaecee Martin and one of the country's top forwards in Franklin, MA's Jermaine Samuels.
"Jaecee Martin, he's crazy at passes, whenever I was roaming that baseline, whenever there was a little gap, he'd get it there with a little no look pass or dump off for an easy layup or dunk." Said Samuels about playing with one of the best passers in the 8th grade game.
Fast forward to May 2013, and the Massachusetts, State Championships Final Four, and Massachusetts most athletic player's CBC days are long gone, while he instead laces up for the team that his CBC squad throttled just over half a year before. Samuels dominated the Final Four, leading Expressions to the Division 1 Massachusetts State Championship. Samuels' standout performance went straight to youtube, as BALLAsTV gave him the title of the MVP of the State Championships, while also naming him the clear top 8th grader in Massachusetts, in a video that has been watched over 14,000 times.
He's no stranger to the spotlight though, having a video of his highlight reel dunk at the 2012 Basketball Spotlight J.E.M. Classic all star game, two mixtapes from Game Time TV (The Youtube channel of Game Time Magazine: Youtube.com/GameTimTV) which combined have more than 7,500 views and five more highlight videos on Youtube, including his most popular video, his highlights from the Elite 75 and Scott Hazelton camps owning over 45,000 views.
He has also earned countless articles about him by HoopRootz.net and Basketball Spotlight when he was in middle school, and now more from the New England Recruiting Report, helping him to become one of New England's most well known freshman in New England, and one of the top ranked players in the country. Future 150 has Samuels ranked #9 in the country for the class of 2017.
"The national attention to me, doesn't really faze me," Samuels says, "Because at the same time I know there's other people out there that can lock me down on D or shoot better than me. There's always someone out there who can do more than you."
With a skill set and athleticism well beyond his years, and an attitude better than a handful of pros, Samuels was in a great position to be effective as soon as he stepped foot on the high school hardwood. Suiting up with Expressions teammate and good friend Azar Swain at the Rivers School also helped make the transition from middle to high school easier.
"Azar's basically like a brother to me, in some ways. He always helps me out in some ways and I help him out," Jermaine said.
From the time Jermaine was with Mansfield based program, MPlex, and Swain played with Boston's MABC, Swain always had the desire, running up and down multiple times non-stop just to bury a three pointer after three pointer. After they went at each other for a few years, they eventually found each other on the same squad for the first time, on CBC, which Swain had been with while being known as the teams deadliest shooter.
The time on CBC together brought them together as the only two players from Massachusetts. From car rides to tournaments and hanging out during trips the two
became best friends and when they both made the decision to move to Expressions Elite, they didn't have to waste any time building chemistry. With the freshman duo playing together at the Rivers School this year, under head coach Andrew Mirken, they were both some of the biggest scorers on the team.
Two games into the season, Samuels and his team warm up for their third outing against Vermont Academy and it appears to be just another game for both teams, until the game starts. Jermaine enters the game a few minutes in, coming off the bench. After that, it was all over.
The first few plays he's in for are normal plays, good ball movement leading to a few scores and a few baskets allowed on defense. Once Vermont takes the lead at 9-8 though, Samuels completely turns it on, a floater over a nearly 7 foot shot blocker, followed right up by a steal in the press leading to a leaning layup for him. Plays later, the high motor forward scores again, this time off a put back tip-in leading to a three point play that he converts. After less than five minutes in the game, Samuels has already scored nine points and also brought his teams lead to 8 where just minutes before they were trailing.
He would finish the game with 30 points and 12 rebounds, a huge statement for a freshman playing in just his third game. That huge game was just the beginning for a year that would see Samuels lead Rivers to their first Independent School League Championship in 24 years, putting up averages of 16.5 points and 8 rebounds per game.
While scoring those numbers, one of the reasons he is given such high rankings is because of the way he scores. While standing at 6'6" Samuels is able to stretch the floor by shooting the three and mid-range jump shots, while he can also attack the baskets and please the crowd with high flying dunks.
Being a star freshman and well known player, Jermaine gets way more autograph requests than the average person, people try to talk trash, and get in his head, Samuels knows that instead of getting angry or flustered by it, to just play his game and prove them wrong for whatever it is they're saying. Like any other player though, he still gets nervous when playing a team he's never seen or heard of.
When that does happen, as he said, "I just tell myself it's Go Time. No matter what, you have to put it all on the floor."
And as his twitter bio reads "Just a Baller Chasing A Dream," that dream could soon be a reality.