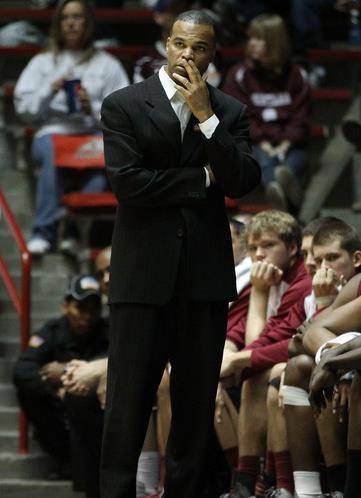 By Alex Stoddard // @astod23
Originally Published in the BBA Newsletter: Summer 2012 Edition
When you've made the NCAA Tournament once since 1946, most people don't consider you a basketball school. But Harvard, led by head coach Tommy Amaker, may be ready to make his team into a National Championship contender.
Even without the ability to give out basketball scholarships, Harvard Basketball has become famous in the past year with first the rise of Harvard alum Jeremy Lin and the "Linsanity" that he brought to the New York Knicks and then second by making the NCAA Tournament for the first time in 66 years. After being one basket away from making the NCAA Tournament in the 2010-11 season in a heartbreaking loss to Princeton, Harvard captured their 2nd straight Ivy League Championship (in 2011 Harvard tied with Princeton to win the regular season Ivy League Championship, but since the Ivy League doesn't hold a conference tournament, Harvard and Princeton had to play a one game playoff to decide who would get the automatic bid to the NCAA tournament, which Princeton won on a buzzer beating shot).
After a 26-4 overall record and an NCAA 2nd Round Tournament loss to 5th seeded Vanderbilt, Harvard looks to improve upon their outstanding past season next year.
GROWING UP
Born on June 6, 1965, in Falls Church, Virginia, Harold Tommy Amaker started playing basketball at the age of 5 because it was something a lot of people in his community did. After seeing older players play at the playground who were very good, he decided he wanted to be a part of it.
As a kid, he idolized John Lucas (father of Chicago Bulls Point Guard John Lucas III) of the University of Maryland, a basketball and tennis star.
During his AAU playing days, Tommy Amaker helped his team win the Potomac Valley Region Championship and then the 12 and under Division 1 National Championship. Later, Coach Amaker and his team again won the National Championship on the 16 and under team, where they traveled to Jonesboro, Arkansas.
As a kid, Tommy Amaker also played tennis and football but only played basketball in middle and high school. His mother, a long time school teacher, and someone who loved basketball, was very hands-on and instrumental in providing him guidance and direction in academics and in sports.
DUKE UNIVERSITY
At Duke University, Tommy Amaker was a stat sheet stuffer collecting a number of records while there including the "winningest" player, number of games played, games started and steals in a game. As stated by Coach Amaker during our interview with him, "I was lucky in a lot of ways that I never had any serious injuries."
Also while at Duke, Tommy Amaker became the all-time assist leader with 708, all-time assist to turnover ratio leader (2.88) and all- time assist per game average leader with 5.1 per game. One of the things that went into setting all of those records as a point guard was that he had played the position his whole life.
In his four seasons playing at Duke, Tommy Amaker averaged 8.5 points per game, 5.1 assists per game, 2.2 rebounds per game and 1.9 steals per game.
After his final season at Duke, Tommy Amaker was drafted by the Seattle Supersonics (now the Oklahoma City Thunder) with the 55th overall pick in the 3rd round of the 1987 draft.
COACHING CAREER
In 1988, after his playing career had ended, Amaker became a graduate assistant at Duke on Head Coach Mike Kryzewski's staff and was
an assistant from 1989-1997. In 1997, Tommy Amaker became the youngest head coach in Big East conference history at age 31 when he became the head coach at Seton Hall.
He then became head coach at the University of Michigan from 2001-2007. On April 11th, 2007, Tommy Amaker was hired as the head coach at Harvard University where he then beat Boston College (then ranked #17 in the country) to get the first win over a ranked opponent in the Harvard Basketball's history. During the 2009-10 season, Amaker led Harvard to its winningest season ever behind the play of Jeremy Lin and was invited to the collegiateinsider.com Invitational Tournament where they were eliminated in the first round by Appalachian State.
Last season, he led Harvard to a share of the 2010-11 Ivy League Championship. This season was a season to remember for Harvard Basketball fans because of all of the historic things that occurred including winning the first full Ivy League Championship in the History of Harvard Basketball and then making the NCAA Tournament.
Tommy Amaker has done a great job building Harvard into a National contender and hopes to be the first coach in Harvard basketball history to lead his team to a national championship. Will he?
Only time will tell.