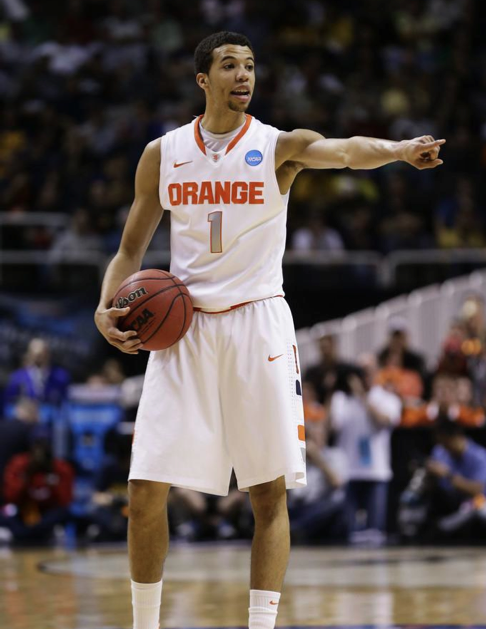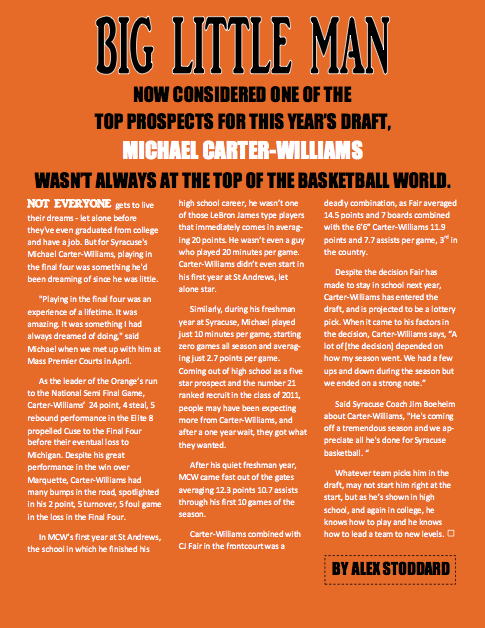 Not everyone gets to live their dreams - let alone before they've even graduated from college and have a job. But for Syracuse's Michael Carter-Williams, playing in the final four was something he'd been dreaming of since he was little.
"Playing in the final four was an experience of a lifetime. It was amazing. It was something I had always dreamed of doing," said Michael when we met up with him at Mass Premier Courts in April.
As the leader of the Orange's run to the National Semi Final Game, Carter-Williams' 24point,4steal,5 rebound performance in the Elite 8 propelled Cuse to the Final Four before their eventual loss to Michigan. Despite his great performance in the win over Marquette, Carter-Williams had many bumps in the road, spotlighted in his 2 point, 5 turnover, 5 foul game in the loss in the Final Four.
In MCW's first year at St Andrews, the school in which he finished his high school career, he wasn't one of those LeBron James type players that immediately comes in averag- ing 20 points. He wasn't even a guy who played 20 minutes per game. Carter-Williams didn't even start in his first year at St Andrews, let alone star.
Similarly, during his freshman year at Syracuse, Michael played just 10 minutes per game, starting zero games all season and averag- ing just 2.7 points per game. Coming out of high school as a five star prospect and the number 21 ranked recruit in the class of 2011, people may have been expecting more from Carter-Williams, and after a one year wait, they got what they wanted.
After his quiet freshman year, MCW came fast out of the gates averaging 12.3 points 10.7 assists through his first 10 games of the season.
Carter-Williams combined with CJ Fair in the frontcourt was a deadly combination, as Fair averaged 14.5 points and 7 boards combined with the 6'6" Carter-Williams 11.9 points and 7.7 assists per game, 3rd in the country.
Despite the decision Fair has made to stay in school next year, Carter-Williams has entered the draft, and is projected to be a lottery pick. When it came to his factors in the decision, Carter-Williams says, "A lot of [the decision] depended on how my season went. We had a few ups and down during the season but we ended on a strong note."
Said Syracuse Coach Jim Boeheim about Carter-Williams, "He's coming off a tremendous season and we ap- preciate all he's done for Syracuse basketball. "
Whatever team picks him in the draft, may not start him right at the start, but as he's shown in high school, and again in college, he knows how to play and he knows how to lead a team to new levels.